Walking around Steve and Cathie Schonwetter's home on the east side of Lake George, the beauty unfolding before you is breathtaking. 
But it's the things they've done to protect that beauty that Steve and Cathie point out first.
The Schonwetters are Lake Protectors.
"I Want to Start Today"
Twice in the last 25 years, Steve and Cathie have purchased and rebuilt 1920s-era homes "on the point" at Warner Bay. Both times they have gone well beyond just improving the comforts of home -- adding stormwater and wastewater enhancements that will help safeguard the Lake's remarkable water quality for years to come.
"I've heard people say, 'Let my children worry about that,'" Cathie says, "but I wouldn't want to do that. I want to start today."
Warner Bay, like the rest of Lake George, deserves nothing less.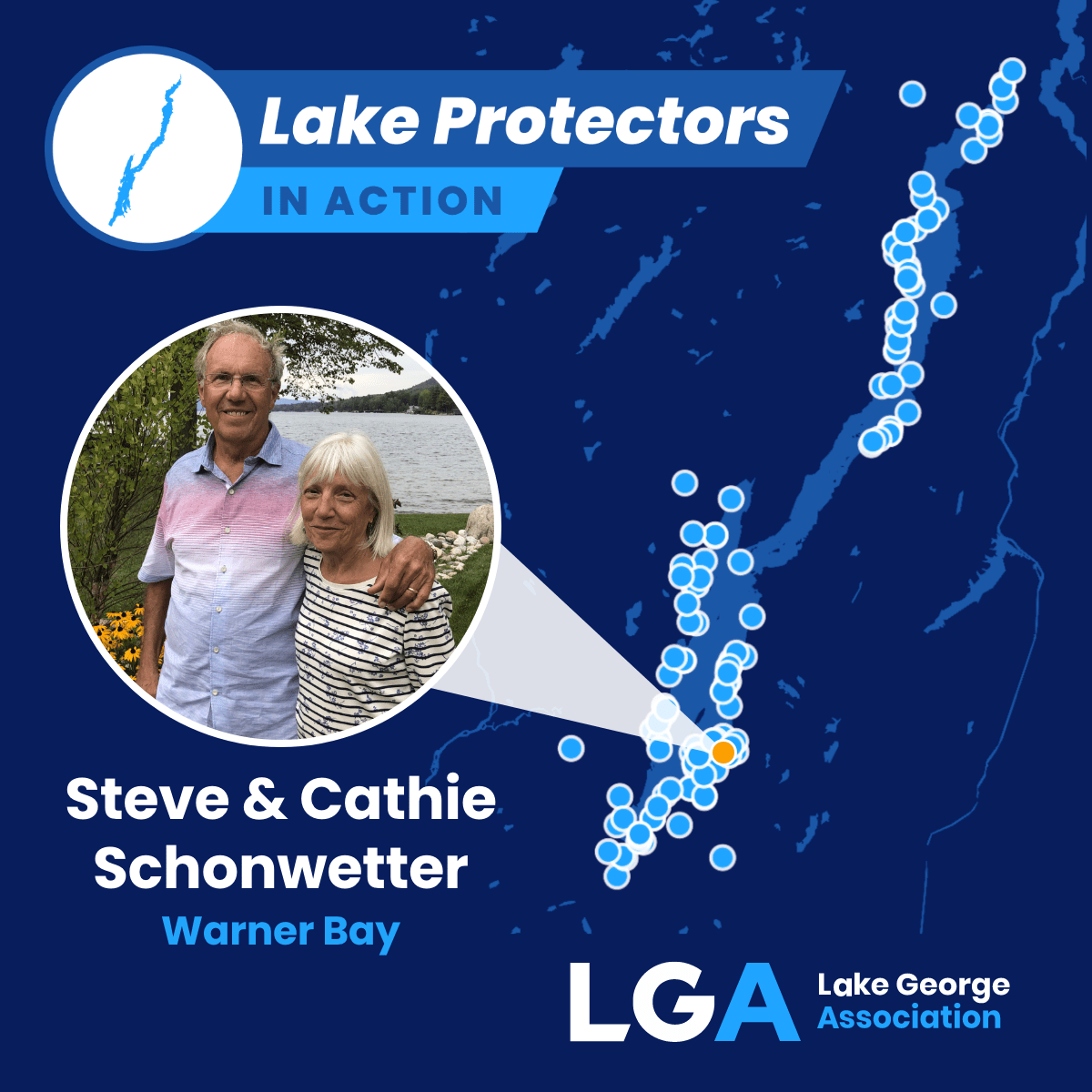 "This is our water source. We certainly don't want to have any part of not doing everything we can to keep it as pure as it is."

Steve Schonwetter
Located in the Town of Queensbury, the Warner Bay watershed flows into the Dome Island sub-basin of Lake George, which includes the deepest point on the Lake. This watershed has been identified by the Lake George Association's science and technical team as a priority for protection due to water quality threats arising from both its natural and man-made characteristics.
Nearly 60% of the properties in the Warner Bay watershed are within the Critical Environmental Area (CEA) -- a band of land extending back 500 feet from the Lake that has been shown to have an inordinate influence on water quality. This is high-density development for such an environmentally sensitive place.  More than 14% of the CEA is covered by impervious surfaces, including roofs, walkways, patios and more than four miles of roads, which create and facilitate the flow of stormwater containing algae-feeding nutrients, road salt, and other contaminants into the Lake. When impervious surfaces cover more than 10% of the CEA, there will be an adverse impact on water quality. Adding to the stormwater challenge, the watershed is home to 14 miles of streams that also empty into the Lake.
"This is Why I'm Here"
The Schonwetters began their commitment to Lake protection in the late 1990s when they purchased their first Warner Bay home from Steve's parents and set about rebuilding it for use as their full-time residence. Because the home is located on a narrow peninsula and just feet from the water, they rebuilt on largely the same footprint so as not to cause further disturbance and re-engineered the original septic system to pump the wastewater to a newly established leach field much farther away from the Lake.
In 2020, when their neighbor put his home up for sale, Steve and Cathie purchased it as well and began their second complete rebuild. This time the protections were even greater.
With the assistance of Gould's Lawn & Landscaping, the home's impermeable asphalt driveway was replaced with permeable pavers that allow stormwater to seep into, rather than flow across, the ground and into the Lake. In addition, rain gutters that hung over the Lake were redirected underground and funneled to a series of rain gardens where the water is naturally filtered. 
The Schonwetters also replaced the antiquated septic system serving their new home with a sophisticated, small-footprint, enhanced treatment unit (ETU), which processes wastewater in a three-stage process of aerobic and anaerobic treatment before sending the filtered effluent to a wildflower-covered leach field away from the Lake.
"It's a great improvement and I think it's wonderful for the Lake," Steve says. "My hope is that more and more people on the Lake would put in these systems."
A Lifestyle of Lake Protection
That type of commitment is exactly what the LGA is working to foster through our new Lake Protector initiative – a comprehensive community outreach program to inform, empower, and assist people in taking direct protective actions on their properties to keep Lake George clear and clean for generations to come.
Property owners who register will receive a Personal Protection Plan identifying the most serious water quality threats in their area of the Lake and the actions they can take on their property to address them.
Sitting on their deck on a recent weekday afternoon, the Schonwetters talk about the importance of property owners around the Lake embracing this responsibility. Their reasoning is at once pragmatic and philosophical. 
"We drink the water," Steve says. "This is our water source. We certainly don't want to have any part of not doing everything we can to keep it as pure as it is."
Cathie says, "My friends and I call Lake George 'magical.' Once you get here, you don't want to leave. When you wake up in the morning and hear a loon calling, and another calling back, you say, 'This is why I'm here.'
 "And that's due to Lake Protectors from years ago."